Dorothy Silloway - Mobile Memorial Gardens Cemetery
---
October 15, 2018
---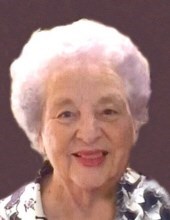 A graveside service for Dorothy Silloway will be held at 2:00pm on Saturday, 10/20/2018.
Dorothy Silloway, 94, of Midwest City, Oklahoma and formerly of Mobile, Alabama passed away October 7, 2018 in Midwest City. She was born January 8, 1924 in Lumberton, Mississippi to Lester and Vesta Callahan. Dorothy worked at Brookley AFB in Mobile, Alabama as a Dept. of Defense employee along with her husband, Paul Silloway. They transferred to Tinker AFB in Oklahoma City where they retired. Both Dorothy and Paul worked with Meals on Wheels, delivered bags of groceries to the needy and maintained the food pantry all for St. Philip Neri Catholic Church in Midwest City, Oklahoma for over 15 years. Our loving mother, wife and grandmother is survived by husband, Paul of 65 years; 5 children, Irma Kate Bell of Moore, OK, Annah Hill of Mobile, Alabama, Jim Robinson and wife Sue of San Antonio, TX, David Robinson and wife Carla of Port St. Lucie, FL, and Jacky Ray Robinson and wife Joann of Midwest City, OK; 22 grandchildren; and 27 great grandchildren. Viewing will be 8AM-8PM Sunday, October 14th at Barnes Friederich Funeral Home. A mass to celebrate Dorothy's life will be 11:30 AM, Monday, October 15, 2018 at St. Philip Neri Catholic Church under the direction of Barnes Friederich Funeral Home. There will be a visitation held at Radney Funeral Home in Mobile, Alabama on Friday, October 19, 2018 from 6:00 p.m. to 8:00 p.m. A graveside service will be held at 2:00 p.m. on Saturday, October 20, 2018 at Mobile Memorial Gardens Cemetery in Mobile, Alabama.
Interment arrangements by Mobile Memorial Gardens Cemetery and Mausoleum, 6100 Three Notch Rd., Mobile, AL 36619 | 251-661-1333.